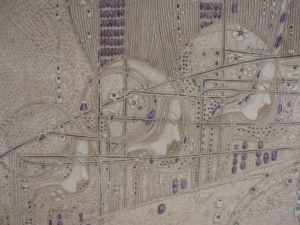 Some Notes On Gesso
The name gesso is probably an Italianised form of the word gypsum, which is a mineral used to make Plaster of Paris……….the main ingredient of gesso.The ancient Egyptians begun to use gesso to prepare wooden panels for painting in about 2000BC.
It is also found in the Palace of Knossos in Crete in the form of raised wall decorations dated 1600-1400BC.
Italian painters of the 13-15th century used it as a durable and brilliant white ground for their paintings. Gesso Panel Detail 1
If properly made it never changes, and remains a luminous white medium which will adhere to any surface however smooth.
In the 17th Century it was used extensively for the raised decoration of furniture, and often mistaken for carving. Later it was used for modelled ornamentation on frames to be gilded, raised wall and ceiling decorations, screens and many smaller items.
At the turn of 19th century it was introduced as a subject at Glasgow School of Art by Fra Newberry. It is believed that the first classes were held in 1889.
Margaret Macdonald Mackintosh entered the school in 1890, and almost certainly learnt the technique at these classes, which were again almost certainly taught by Newberry himself.
Newberry learnt about gesso while attending courses run by Walter Crane at the South Kensington Institute, which would later become the Victoria and Albert Museum. These courses were run during the summer months between 1885 and 1886 and were open to art masters.
Margaret Macdonald Mackintosh made no notes about how she made her gesso panels. So, in order to imitate her work as closely as possible, we have evolved a method from books and hands-on research.
We did six gesso workshops and talks about Margaret Macdonald at the Charles Rennie Mackintosh Exhibition at the McLellan Gallery, Glasgow in 1996.
A film of the making of as exact a copy as possible of The White Rose and The Red Rose gesso panel above the studio fireplace in the Mackintosh House.